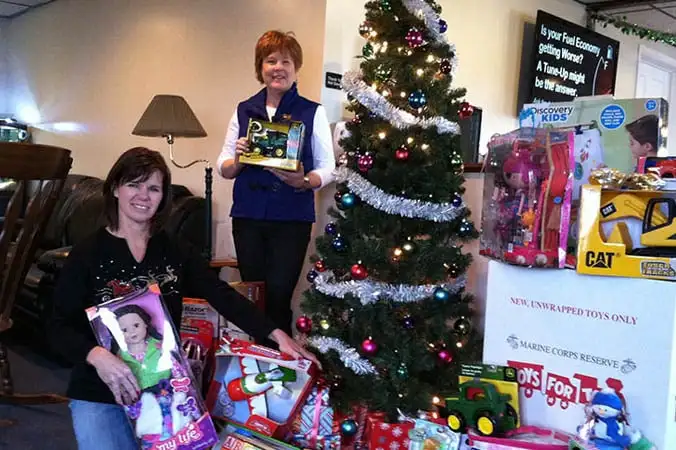 Our success comes from our customers in the Gettysburg community and giving back to that community is a top priority at Mike's KARS.
To help promote the importance of education, Mike's KARS has participated in the Dollars for Scholars program at the Gettysburg Area High School. The Mike's KARS Technology & Trade Scholarship is awarded each year to a student interested in continuing their education at a trade school. We have provided over $4,000 in scholarships since 2011.
Mike's KARS Technology & Trade Scholarship Recipients
2023- Miguel Neller
2022 - Cody Wyett Abplanalp
2021 – Oscar Lopez-Espinosa
2020 – Philip Ott
2019 – Veronica Yingling
2018 – Edward Reyes
2017 – Richard Himes
2016 – Meagan Six
2015 – Ben Price
2014 – Rhett Staub
2013 – Lucia Diaz-Lua
2012 – Christina Signor
2011 – Wayde Dubbs
The Cleveland Clinic
Mike's KARS helps raise money to support The Cleveland Clinic Breast Cancer Vaccine Research Fund by participating in the National Brakes for Breasts campaign. Customers receive free brake pads and just pay for the labor and any other parts. Then Mike's KARS donates 10% of the labor to the fund. Since 2015, we have donated over $1500 to this great cause. We also support Pink Out Inc. which is a local fund that provides non-medical financial assistance to women for living expenses such as rent, food and utilities. Wigs, prostheses and special garments not covered by insurance are also available to improve a patient's self-esteem and recovery.
Linda Kranias Memorial Race
Mike's KARS supports the Linda Kranias Memorial 5K race held each year in November by making a donation and providing a contribution to their registration packets. The 5K raises funds to benefit the Adams Cancer Center, Forever Love Rescue and the East Coast Exotic Animal Rescue Organization.
Toys for Tots
Toys for Tots is another very successful community program Mike's KARS participates in. Our customers, local churches and employees all get in the spirit of giving to children in the area. Mike's KARS has also donated lots of toys to the South Central Community Action Programs. Their programs empower families and engage the community to pursue innovative and effective solutions to break the cycle of poverty.
Land Conservancy of Adams County
Mike's KARS is proud to support the Land Conservancy of Adams County which is active in preserving the rural lands and character of the local area. A donation and contribution to their registration packets is made each year to their fall Road Rally event.